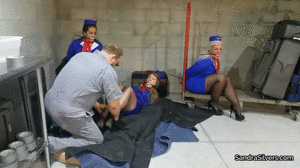 17:56 video
Nabbed Trio of MILF Stewardesses Stored in Secluded Airline Hangar! Zip Ties! Duct Tape! DiD Bondage Peril!
The left baggage area of the airport was in the furthest hangar, so remote no one ventured over except the handler in charge of the unclaimed suitcases. When his lonesome job left him craving for company it was the perfect place to bring a lady, or two, or three... A trio of international airline hostesses had caught his eye, he nabbed the gals, now they find themselves with an unexpectedly long layover!

The first surprised stewardess is a silver haired stunner in stilettos, bright blue pencil skirt and shirt of her uniform clinging to every one of the MILFs killer curves, perfectly manicured nails in a red to match her neckerchief. Placing his purloined pretty companion onto the luggage rack, her struggles rock the cases piled perilously close to pantyhose-d legs. Next he brings in a petite, dark haired curvy cutie, high heels clicking on concrete, to sit her in a waiting metal chair, last of all a long limbed brunette on her first flight out as a fully fledged flight attendant, is made to lay on the floor between her captured colleagues.

Each gal has their zip tied wrists behind them, cruel plastic teeth of the handy ties biting into the corners of their mouths, securing a generous cloth mouth stuffing in place. He zips a few more of the black plastic ties fast around their ankles before returning with duct tape to thoroughly fettle the fine female flight attendants. Ripping blouses, buttons pinging across the concrete floor as their lacey lingerie is revealed, a further wrapping of the silver tape around each gagged mouth completes the curtailment of the cabin crew, their struggles increase as they wonder on what he has planned for them next...